Mutton veggie soup
Tags:
broccoli
,
carrot
,
ginger
,
goat paya
,
green chillies
,
mutton
,
postpartum care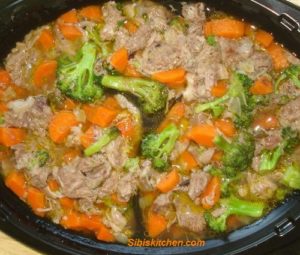 This is one of my favorite soup in the whole world. To top it off, this mineral rich bone soup is very good for health.
Ingredients
Goat/Mutton – 250 gm
Bay leaves –  2
Pepper corns –  2 tsp
Cinnamon – 1 stick
Cloves-2 no
Onions(chopped) – 1
Carrots(chopped) – 2
Broccoli head (chopped)-1 medium
Ginger (crushed) – A small piece
Green chillies( chopped )- 1No
Salt – As reqd
Pepper powder – As reqd
oil
Water – 2 cups
Procedure
1)    Pressure cook the mutton with  water, bay leaves, pepper corns, crushed ginger, green chillies and salt .
2)    Heat oil in a pan, lightly fry onions and add chopped carrots. Let it cook for 10 minutes
3)    To the mutton soup add the above mixture .
4)    Add salt and pepper powder to taste, broccoli pieces and cook for another 5 minutes
5)    Serve hot with multigrain bread or a simple toast.