Turkey Pathiri/ Turkish Pathil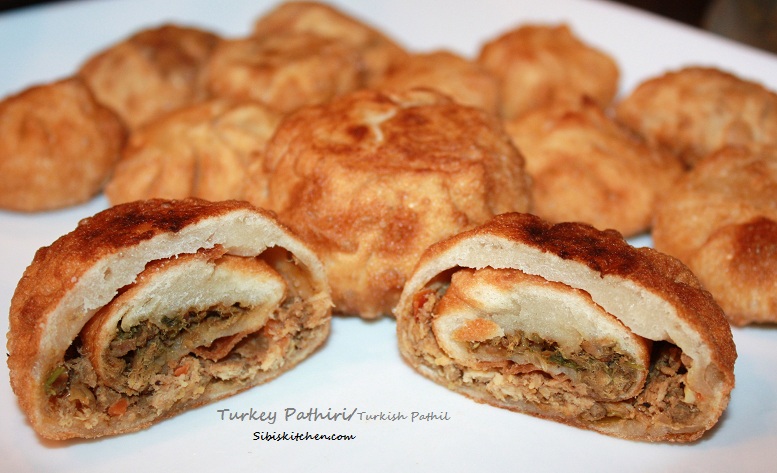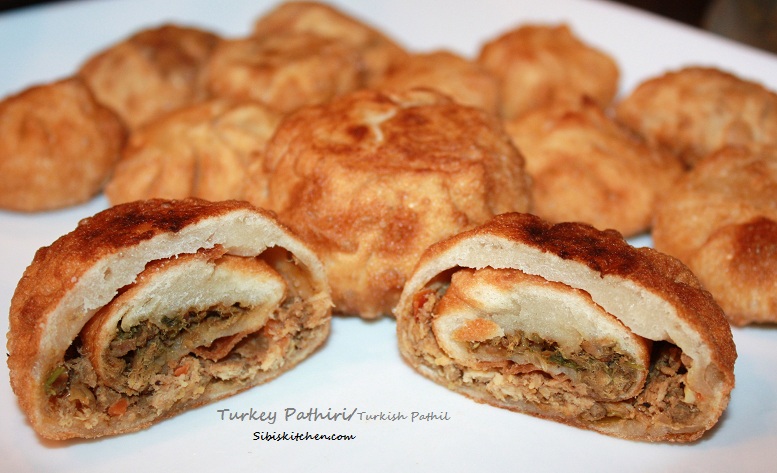 Comments: 4
Tags:
beef
,
chicken
,
erachi pandam
,
garam masala
,
ifthar recipe
,
kerala recipe
,
kumbala pathil
,
Kumbala pathiri
,
maggi hot and sweet tomoto chilli sauce
,
malabar recipe
,
Pathiri
,
puri
,
ramdhan special
,
thurki pathiri recipe
,
Turkey pathil
,
Turkey Pathiri
,
Turkish pathiri
Presenting to you another traditional Malabar snack- Turkey pathiri or Turkish Pathil.Why did the Malabaris name it Turkey pathiri- is it the bird Turkey or the country Turkey been referred to? Some folks call it Kumbala Pathil resembling wintermelon. This delicacy is stuffed fried puris within another stuffed fried puri. You can make as many layers as you want, if you have the patience to make it. Some recipes have a whole boiled egg within the innermost fried puri.I have the recipe for two layered Turkish pathiri with beef filling in the inner puri and chicken filling in the outer puri.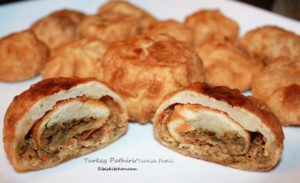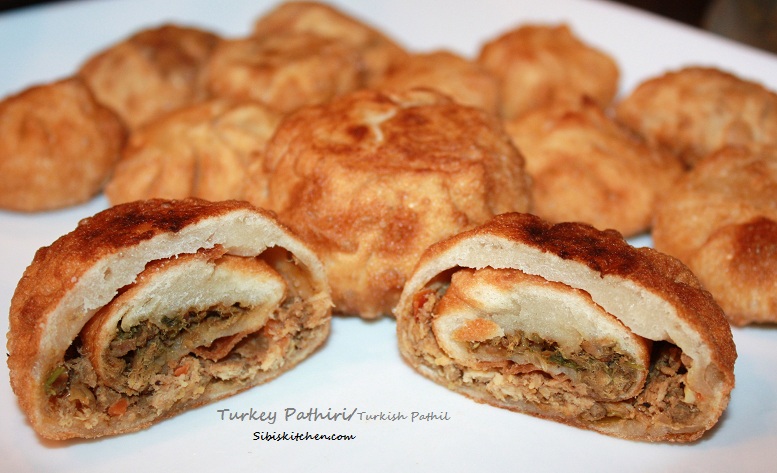 Preparation time 45 minutes
Cooking time 20 minutes
Serves 4
Ingredients
For the puris/pathiris
All purpose flour 2 cups
Water as needed
Salt to taste
Canola oil for frying
For the beef filling recipe
For the chicken filling
Chicken cooked and shredded  1 cup
Onion, finely chopped  1 No
Green chillies, chopped 2 No
Ginger, crushed  1 tsp
Garlic, crushed  1 tsp
Garam masala powder 1 tsp
Kashmiri chilli powder 1 tsp
Garam masala – 1 tsp
Cilantro chopped 1 Tbsp
Salt  to taste
Canola Oil  1 Tbsp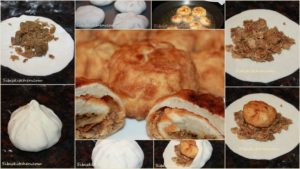 Method
For the chicken filling
1.Heat one table spoon oil in a thick bottomed pan and sauté the onions, green chillies, ginger and garlic.
2.Now add chilly powder, garam masala and salt. Let it roast for few seconds.
3 Mix the cooked shredded chicken to the masala and cook for 5 minutes on low flame. Garnish with the coriander leaves
For the Turkish pathiri
1.Mix the flour and salt with enough water and knead to a smooth dough.
2.Divide the dough into one third and two third portions. With the one third portion, make 8 small balls and roll out small puris with a chapathi roller or press.
3.Place 1 teaspoon of beef filling over the small puris and shape them into rounds by bringing the edges together and pinching in the centre.Have a look at my pictures to get an idea.Repeat the same process with the rest.
4.Heat oil in a heavy bottomed pan or kadai and deep fry all of them.Keep aside.
5.Divide the remaining dough into lemon sized balls and roll out to make 8 bigger puris and keep aside.
6.Take a bigger puri and place a tablespoon of chicken filling in its centre.
7.Place a previously fried stuffed poori over the chicken filling.
8.Draw the round edge of bigger puri over the fried puri together at the top like how you pleat a sari. Remove the excess dough at the tip.
9.Repeat the process with the remaining puris and fillings.
10.Deep fry the Turkish pathiris in batches till they turn golden brown.
12.Serve hot with 'Maggi hot and sweet' tomato chilli sauce.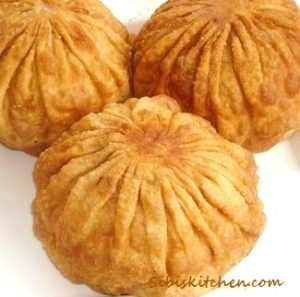 Notes: More layers will give you more pleated appearance for the outer most puri. I just came to know the reason behind the name of this dish. My friend Mili wrote: "because it came from Turkey. we can also stuff boiled egg inside. its a very special item in Mahi ( A place in Kerala) side.."