Athishaya Pathiri/ Athrippa Pathiri/ Layered Meat Pie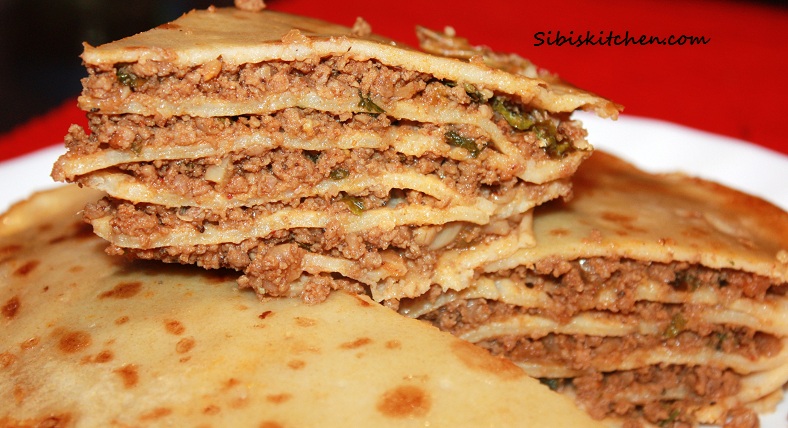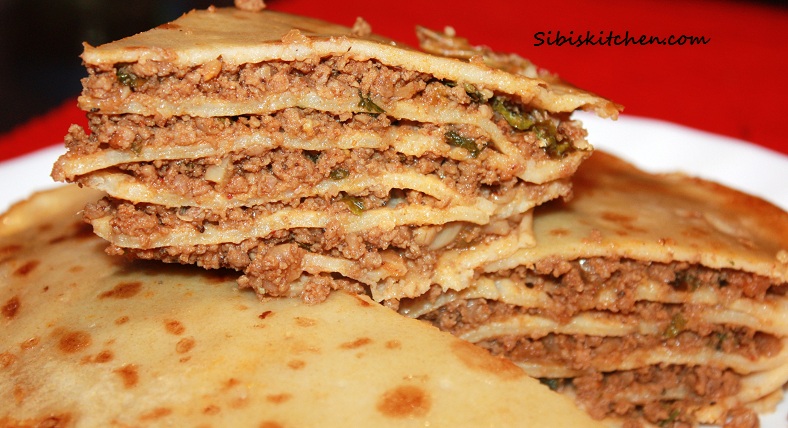 Tags:
Athrippa pathiri
,
Chatti Pathiri
,
chicken
,
ifthar recipes
,
Layered Meat Pie
,
Malabar
,
malabar recipes
,
malabari lasagne
,
mappila recipes
,
Mincemeat
,
Pancakes
,
Pathiri
,
Ramadan
If you are planning for a surprise party like baby shower or want to surprise your loved ones for no reason, this is the dish you must have handy. 'Athishayam' is a malayalam word for wonder.'Athrippa' is to take extra precautions at every step while making this dish.It is mostly made during festive occasions.In a more precise American way, you can call it "Layered Meat Pie."
Preparation time 30 minutes
Cooking time 45 minutes
Serves 4
Ingredients
For Erachi pandam or meat filling
Lean ground beef 1 lb
Onions chopped 1 No
Green chillies,chopped 3 No
Garlic paste 1 tsp
Ginger paste 1 tsp
Coriander leaves,chopped 3 Tbsp
Garam masala powder 1 tsp
Tomato chopped 1 No
Chilly powder 1 tsp
Coriander powder 1 tsp
Canola oil 1 Tbsp
Salt to taste
For Pancakes or Ottadas
All purpose flour 2 cups
Egg 1 No
Salt 1 tsp
Water as needed to make the batter
For Dipping mixture
Milk 2%  1 cup
Egg 1 No
Salt a pinch
Cardamom powder 1/2 tsp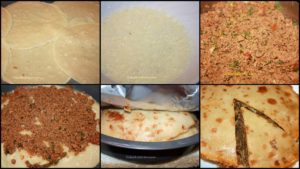 Method
For Erachi pandam or meat filling
1.Heat oil in a frying pan and sauté onion and chillies.Fry till the onion is transparent.Add the ginger and garlic paste.
2.Roast till the raw smell disappears.Add the chopped tomotoes and cook for 3 minutes till they are soft.
3.Add the dry masala powders and salt.
4.Add the ground beef and cook well.
5.When the beef is almost done,add the coriander leaves.Keep aside.
For Pancakes or Ottadas
1.Make a thin batter with the flour,egg, water and salt.
2.Heat a frying pan and pour in a scoop of batter (or the size you want to prepare in the baking dish) and swirl the pan to form a thin pancake.
3.When one side of the pancake  is cooked, flip and cook the other side.Transfer the pancake to a tray. Repeat the same process with rest of the batter.
For Dipping mixture
1.In a bowl whisk together egg,milk,cardamom powder and salt until well combined.
For Layering
1. Preheat the oven to 350°F. Grease a round cake pan(8-inch)with 2 teaspoons of ghee or oil.
2. Now start assembling the layers of the athishaya pathiri.
3. Grab a pancake and soak it in dipping mixture for few seconds and put the first layer of ottada or pancake at the bottom of the pan.
4. Spread a generous amount of "Erachi Pandam" over the first pancake and then cover it with another soaked ottada, then meat filling.
5. Repeat the process till how many layers you want.The final layer must be the ottada or pancake.
6. Pour the remaining dipping mixture over the whole assembly of pancakes.
7. Close the pan with aluminium foil and bake in a 350°F oven for about 35-40 minutes till the sides have turned crispy & golden brown.Remove from the oven and keep aside for a few minutes till cool to handle.
8. Turn the upside down of the athishaya pathiri onto a serving plate. Serve hot either as a starter or as a main course.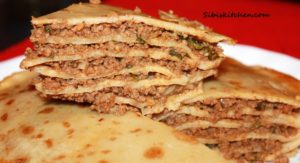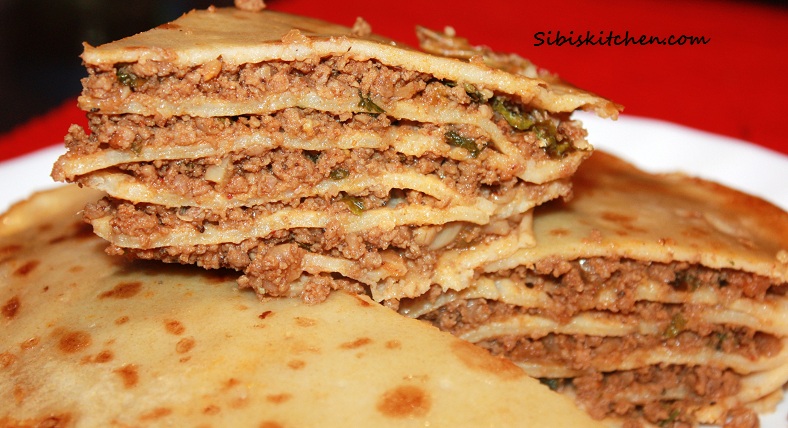 Notes: This is a six layered athishaya pathiri.You can use whole wheat flour instead of all purpose flour or half amount of each.You can replace regular milk with coconut milk for richer taste.