Salmon Fillet Masala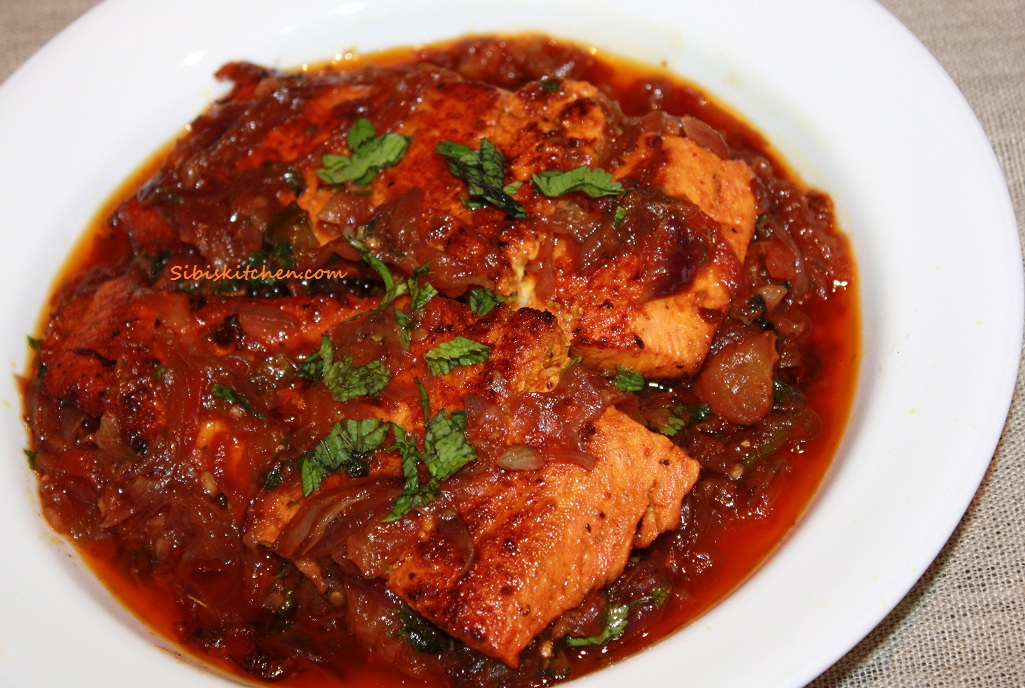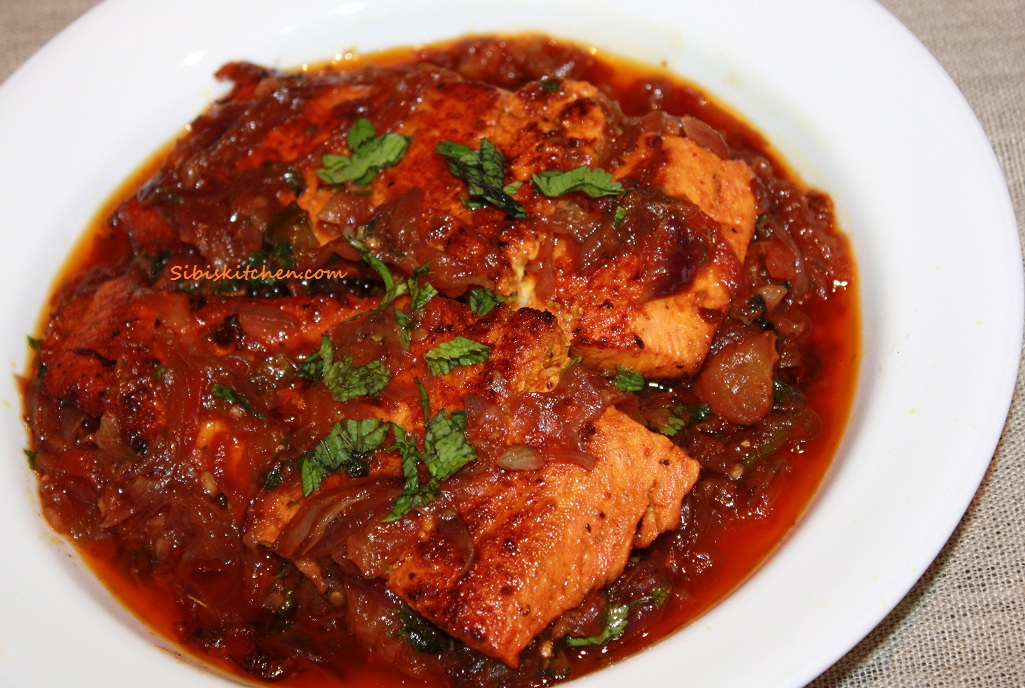 Tags:
Alaskan salmon
,
fish recipe
,
garlic
,
heart healthy
,
indian-recipe
,
omega 3
,
onion
,
Salmon biryani masala
,
wild salmon
Flavor rich salmon fillet masala can be used as side dish or in biriyani preparation. Buy wild atlantic salmon if  it is not too pricey for your food budget. You may be able to recognize the taste – it's stronger than farmed salmon; the flesh is firmer, too. Bear in mind that you're most likely to find wild salmon between the months of May and September, when the Alaska commercial harvest is in progress.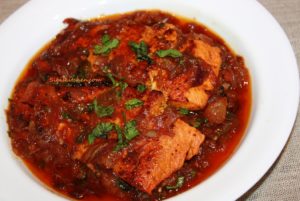 Preparation time  30 minutes
Cooking time   15 minutes
Serves  4
Ingredients
For Marination
Salmon Fillets – 1 Lb
Chili powder – 1 tsp
Pepper powder – 1/2 tsp
Turmeric powder – 1/2 tsp
Fennel powder- 1/4 tsp
Coriander powder-1/2 tsp
Lime juice – 2 tsp
Salt
For Masala
Onion – 2 medium, thinly sliced
Tomato – 2 chopped
Green chili – 3 chopped
Ginger – 1 Tbsp, crushed
Garlic – 1 Tbsp, crushed
Kashmiri chili powder – 2 tsp
Turmeric powder – 1/2 tsp
Garam masala – 1 tsp
Canola oil – 4-5 tbsp
Mint leaves chopped- 1 Tbsp
Coriander leaves chopped -1 Tbsp
Water 1/4 cup
Salt
Preparation
1.Marinate the cleaned salmon fillets with marination ingredients and chill it for half an hour.
2.Heat 4 tbsp oil in a pan and fry the marinated fish pieces and keep aside.
3.Fry the sliced onion, ginger,garlic,c and green chillies in the remaining oil and saute till it is done. Add all masala powders and stir for a minute.
Once the masala powders are fried well, add tomato pieces and saute till the oil starts separating.Add the water and let the masala boil.
4.Now add fried fish pieces and cook in low flame for about 7 – 10 minutes or until the fish pieces are covered in the gravy. Serve hot with rice.
Health Benefits
Salmon, like other oily fish (herring, sardines, mackerel), is rich in omega-3 fatty acids that reduce inflammation, protect against heart attacks, and possibly reduce one's chances of developing cancer.