Roasted Vegetables
Tags:
Asparagus
,
Assorted Bell peppers
,
Balsamic vinegar
,
Brussels Sprouts
,
Button Mushrooms
,
Canola oil
,
Fresh Parsley
,
Fresh Rosemary
,
Fresh Sage
,
Fresh thyme
,
garlic
,
Ground black pepper
,
roasted vegetables
,
salt
Many of the delicious veggie side dishes can be made ahead, which frees up stovetop or oven space and gives the flavors a chance to meld.
Preparation time  20 minutes
Total time  1 Hour
Yields  6 Cups
Ingredients
Brussels Sprouts, trimmed and halved  2 Cups
Asparagus cut into 1 inch pieces 2 Cups
Button Mushroom pieces 2 Cups
Assorted Bell pepper cubes or slices 2 Cups
Fresh Parsley minced 1 tsp
Fresh Sage minced 1 tsp
Fresh Rosemary minced 1 tsp
Fresh thyme minced 1 tsp
Garlic grated 1 tsp
Balsamic vinegar 2 Tablespoon
Canola oil 1 Tablespoon
Salt & Ground black pepper to taste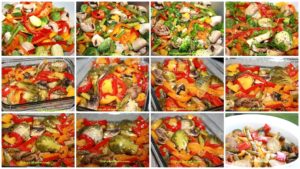 Method
1. Preheat oven to 450 degrees.
2. Mix Brussels sprouts, asparagus, mushrooms, bell peppers, sage, parsley, rosemary, thyme, garlic and canola oil in a large bowl.
3. Season generously with salt and fresh ground black pepper.Arrange the veggie mixture on a baking pan in double layer.
4. Roast veggie mixture 15 min,stir.Continue roasting about 15 min,until starting to brown.
5. Transfer to a serving bowl.Add balsamic vinegar and season to taste with salt and freshly ground black pepper.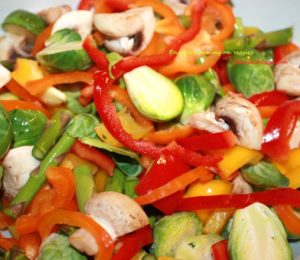 Nutrition
Each 4 oz serving contains 120 calories,18 g carb,2 g protein,5 g fat,0 mg cholesterol,35 mg sodium