Kerala Kadala Kurry
Comments: 4
Tags:
Black chick pea
,
kadala curry
,
Kerala
,
Legume items
This is a very simple and tasty recipe. Most keralites make this curry similar way and enjoy it with puttu for breakfast or sometimes dinner.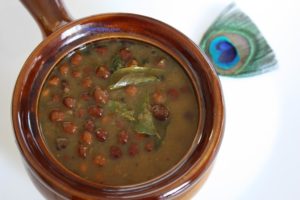 Ingredients:
Black Kadala – 1 cup
Shallots finely chopped – 1
Turmeric Powder – 1/4 tspn
Salt – to taste
Oil,Curry leaves
Roast and make a fine paste of:
Coriander powder – 1 ½ tspn
Fennel Seeds – 1/4 tspn
Dry red chilies – 3 to 4
Cinnamon – very small piece
Cloves -2
Coconut(grated) – 4 to 5 tspns
Method:
1. Soak black kadala overnight. Pressure cook kadala with water,turmeric and salt till they are tender.
2. Roast grated Coconut  and rest of the ingredients till they are light brown. Remove from heat.
3.Grind all the roasted ingredients into a fine paste and add to the cooked kadala and let it boil on low flame.
4. Heat 2 tsps of oil in a pan, splutter mustard seeds, then add finely chopped shallots and curry leaves.Fry it till light golden brown and transfer it to boiling curry.
5. Ready to serve.
Best when served with puttu varieties.