Healthy Pizza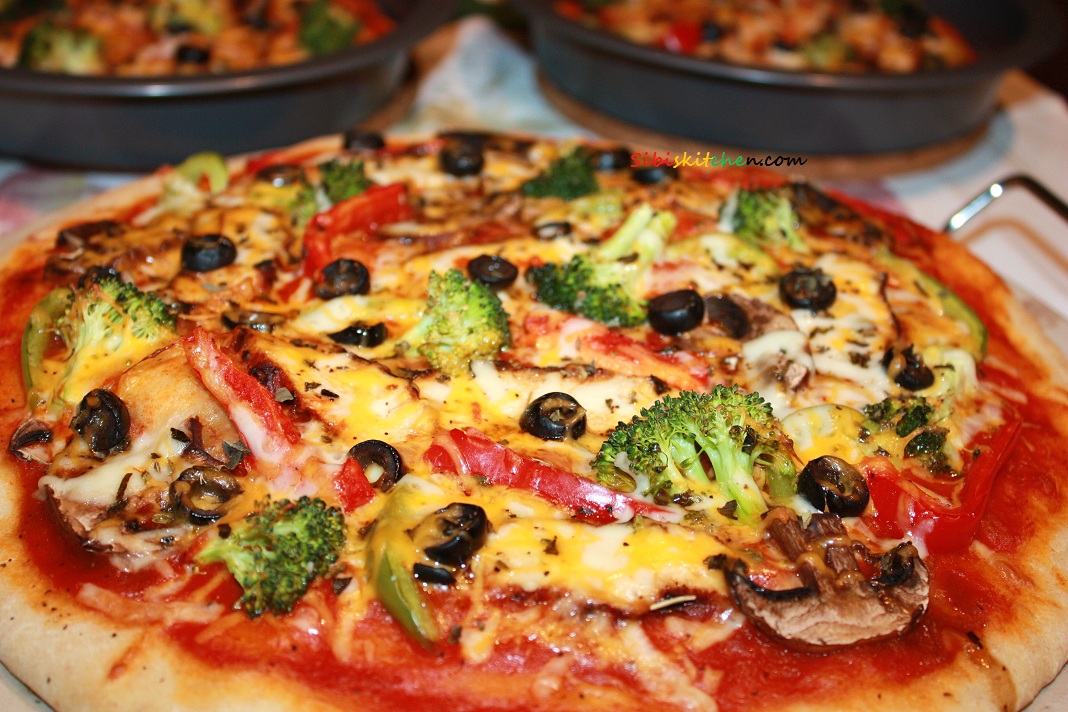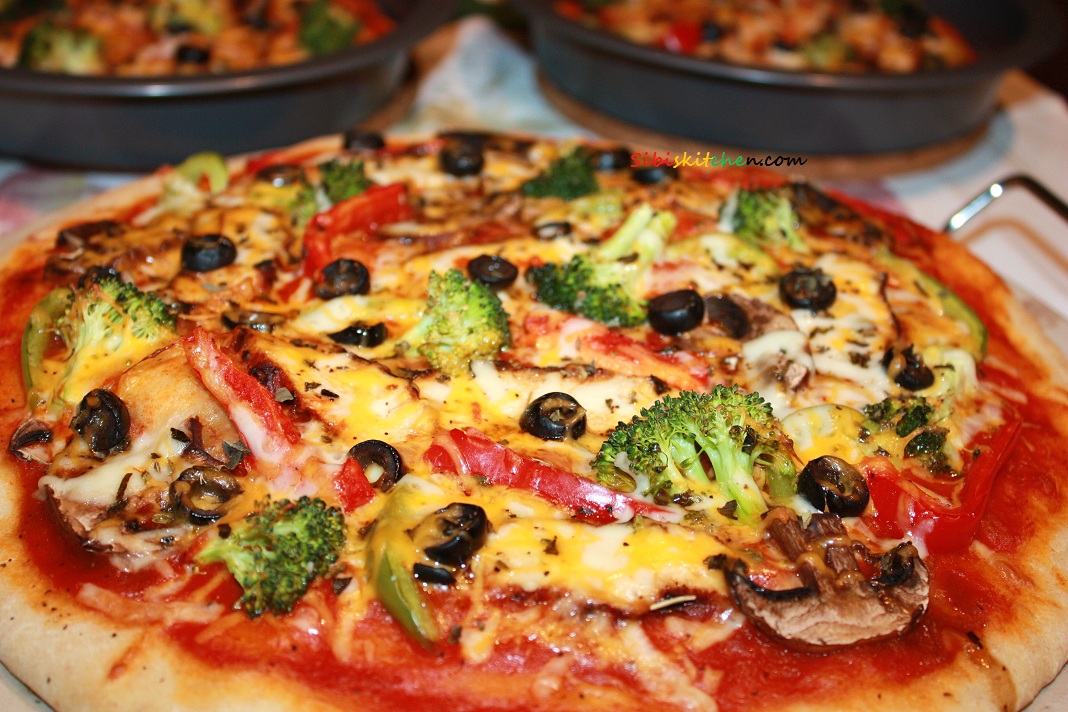 Tags:
bell peppers
,
cheddar cheese
,
chicken pizza
,
Healthy pizza recipe
,
Italian Cuisine
,
mozarella cheese
,
mushrooms
,
parmesan cheese
,
pizza sauce
,
veggie pizza
Well think again! It is possible to have a healthy pizza recipe that is both low in saturated fat and loaded with veggies and grilled chicken.Boost the fiber content of your healthy pizza with whole wheat flour and pile on the veggies for extra fiber and nutrients.Make your own healthy pizza from scratch in the comforts of your home. Pizza can be a part of a healthy diet if you choose the right ingredients.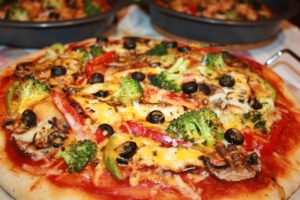 Preparation time 15 to 20 minutes
Dought rising time 2 hours
Cooking time 15 minutes
Ingredients
Pizza Dough: Makes enough dough for two 10-12 inches pizzas'
All purpose flour 2 cups
Whole wheat flour 1 cup
Olive oil 2 Tbsp
Salt 1 & 1/2 tsp
Sugar 1 teaspoon
Warm water (105°F-115°F) as needed
Active dry yeast 2 tsp
Pizza Toppings 
Olive oil 1 Tbsp
Tomato sauce or Pizza sauce 2/3 cup
Mozzarella cheese mild, shredded as needed
Parmesan cheese mild, shredded as needed
Cheddar cheese mild,shredded as needed
Mushrooms, thinly sliced 4 to 5 No
Bell peppers, stems and seeds removed, thinly sliced 1 to 2 No
Grilled chicken breast pieces 1 cup
Broccoli florets 1/2 cup
Black olive chopped 2 Tbsp
Dry oregano 1 tsp
Dry basil 1 tsp
Cornmeal (to slide the pizza onto the pizza stone) as needed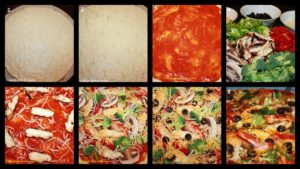 Preparation
1 Mix all the dry ingredients and the oil. Knead it to a soft dough. Dab a touch of oil all over the dough, then cover it and place it somewhere warm. It takes about one to two hours for the dough to rise to almost twice the size depending on the weather.
2.Once risen, punch it down, give it a quick knead. Divide the dough in half. Form two round balls of dough. Place each in its own bowl,cover and let it  sit for 10 more minutes.
3.Preheat the oven to 425°F for at least 30 minutes.
4.Working with one ball of dough at a time, take one ball of dough and flatten it with your hands on a slightly floured work surface. Starting at the center and working outwards, use your fingertips to press the dough to 1/2-inch thick. Turn and stretch the dough until it will not stretch further. Let the dough relax 5 minutes and then continue to stretch it until it reaches the desired diameter – 10 to 12 inches. Use your palm to flatten the edge of the dough where it is thicker. You can pinch the very edges if you want to form a lip.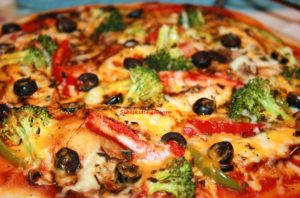 5 Brush the top of the dough with olive oil (to prevent it from getting soggy from the toppings). Use your finger tips to press down and make dents along the surface of the dough to prevent bubbling. Let rest another 5 minutes.Repeat the same process with the second ball of dough.
6.Lightly sprinkle your pizza baking stone (or flat baking sheet) with corn meal. Transfer one prepared flattened dough to the pizza peel. If the dough has lost its shape in the transfer, lightly shape it to the desired dimensions.
7 Spoon on the tomato sauce, sprinkle with cheese, oregano,basil and place your desired toppings on the pizza.
8 Bake pizza one at a time until the crust is browned and the cheese is golden, about 10-15 minutes. If you want, toward the end of the cooking time you can sprinkle on a little more cheese.
Notes: Vegans can avoid the chicken part of this recipe. If you like the flavour of whole wheat flour better, substitute all purpose flour with whole wheat flour.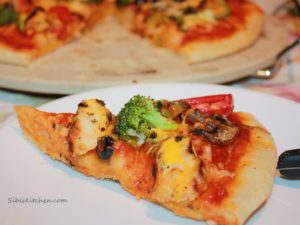 Recipe source: My friend, 'Maya Suresh'