Brownies
Tags:
Chocolate Brownies
Brownies are definitely America's favorite bar cookie (square). Brownies are so named because of their dark brown color, not because they contain chocolate. In fact, the first brownie recipes didn't even contain chocolate.In Fannie Farmer's 'Boston Cooking School Cook Book' the Brownie recipe calls for butter, sugar, Porto Rico molasses, an egg, flour, and pecan meat. So, I think we can safely say that our Brownie has evolved over the last century.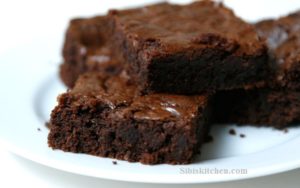 Ingredients:
5 ounces Dark chocolate chopped
1/2 cup Unsalted butter
2 tablespoons Cocoa powder
1 cup Granulated white sugar
1 teaspoon Pure vanilla extract
3 large Eggs
3/4 cup All-purpose flour
1/4 teaspoon Salt

Method:
1.Preheat oven to 350 degrees F and butter (or spray with a nonstick cooking spray) an 8 inch (20 cm) square pan.
2.Melt the chocolate and butter in a large stainless steel bowl placed over a saucepan of simmering water. Remove from heat and stir in the cocoa  powder and sugar .
3.Next, whisk in the vanilla extract and eggs, one at a time, beating well after each addition. Finally, stir in the flour and salt
4.Pour into the prepared pan and bake for about 30 minutes, or until a toothpick inserted in the center comes out with a little batter and a few moist clumps clinging to it. Do not over bake. Remove from oven and let cool on a wire rack. Serve at room temperature or chilled. These freeze very well.