"Kinnathappam" means a sweet rice cake that is steamed in a pan(kinnam). Malayalis use it as a sweet snack or a dessert.For me, it was one of the best afterschool snacks…ummmm… just like neyyappam or unniyappam. The choice is yours whether to have a fried snack or a steamed one.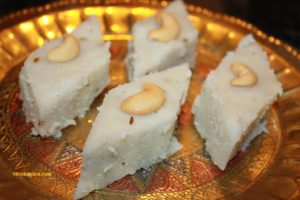 Ingredients
Raw Rice – 1cup
Egg white -1 No
Sugar- 1/2cup
Coconut grated -1 cup
Cardamom whole -3
Cumin seeds – 1 tsp
Shallot- 1 N0
Ghee- 1 tbsp
Bird's nest is one of my  favorite appetizers. I don't need any special occasions to make this; it's often served as an appetizer or as an entree for dinner. The final touch differentiates it from the ordinary cutlets. I got this idea  from cookery show that is broadcasted on Asianet.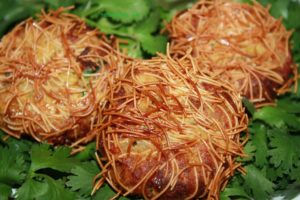 Ingredients:
Onion finely chopped- 3
Ginger/Garlic paste-2 tsp
Green chillies, finely chopped- 2
Turmeric powder 1/4 tsp
Garam masala-1 tsp
Cooked/Shredded meat or chicken 1 pound
Cilantro/Curry leaves chopped-1 handful
Potatoes boiled and mashed -2
Salt-as required
Oil-2 tsp Continue reading →